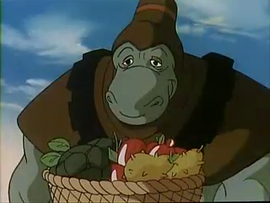 Croddle Fruits were a type of food featured in The New Adventures of He-Man.
Croddle Fruits were the favorite food of Drissi, not only for herself but also to be eaten by the flock of animals she was herding. Grot liked to provide Drissi with baskets of fresh Croddle Fruits when she was doing her job.
Croddle Fruits were actually several different kinds of fruit, including Luna Pears, which Grot would harvest from the trees while riding on his Harvesting Cart.
Appearances
Edit