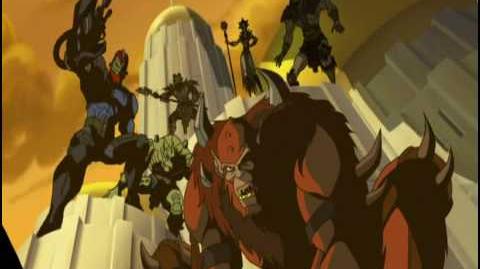 Beginning in 2002, a new
Masters of the Universe
animated series was created by Mike Young Productions to tie in with Mattel's relaunched set of toys. The new series borrows heavily from the original Filmation series, with characters, locations and some situations remaining largely unchanged. However, a new focus was put on story arcs and developing characters, with many receiving proper animated origins for the first time. Sadly, lack of interest in the toyline and lower-than-expected ratings for the show itself meant that the new series was cancelled midway through its second season.
Cast
Garry Chalk as Man-At-Arms and Whiplash
Scott McNeil as Beast Man, Clawful, Mer-Man, Ram Man, Stratos, and Kobra Khan
Gabe Khouth as Orko and Mekaneck
Paul Dobson as Tri-Klops, Trap Jaw, Man-E-Faces, and Snake Face
Michael Donovan as King Randor, Count Marzo, Roboto, and Tung Lashor
Brian Drummond as Stinkor and Tuvar
John Payne as Sy-Klone and Moss Man
Episode List
Season One (2002-2003)

Season Two (2003-2004)
Trivia
Similar to the classic incarnation, Prince Adam explains the premise of the story in the introduction, but he is interrupted by an attack of the Evil Warriors before he can finish.