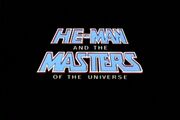 He-Man and the Masters of the Universe
is an American animated television series (1983-1985). The show, consisting of two 65-episode series, was produced by
Filmation
, based on the original toyline by
Mattel
.
Synopsis
Each episode begins with a basic introduction to the premise and lead character:
I am Adam, prince of Eternia, defender of the secrets of Castle Grayskull. This is Cringer, my fearless friend. Fabulous secret powers were revealed to me the day I held aloft my magic sword and said, "By the power of Grayskull! I have the power!" Cringer became the mighty Battle Cat, and I became He-Man, the most powerful man in the universe! Only three others share this secret: Our friends, the Sorceress, Man-At-Arms, and Orko. Together we defend Castle Grayskull from the evil forces of Skeletor!
Music
The music for the original show was created by musicians Shuki Levy and Haim Saban.
The Spanish language version of the show features an actual theme song complete with lyrics unique to this version. The vocals were composed and sung by Chilean singer Juan Guillermo "Memo" Aguirre (a.k.a. "Captain Memo") based on Levy and Saban's original musical score.
The lyrics for the original intro song in Spanish and its English translation are as follow:
He-Man (x4)
El universo ya está protegido / The universe is now protected
Por el poder de GraySkull / By the power of Grayskull
Con secretos poderes destella un castillo / With secret powers shines a castle
He-Man luchará hasta el final / He-Man will fight 'til the end
He-Man (x4)
Teniendo a su lado la mágica espada / With the magical sword at his side
Y amigos que no fallarán / And friends that will not fail
Las fuerzas malvadas, querrán liquidarlo / The evil forces, they'll want to wipe him out
Y nunca descansarán / And they will never rest
nuestro castillo nos da fortaleza / Our castle gives us strength
y a Eternia protegerá / And Eternia it will protect
junto a grandes amigos, unidos luchando / Together with great friends, united in battle
a Skeletor derrotará / Skeletor we will defeat
He-Man (x4)
El universo ya está protegido / The universe is now protected
Por el poder de GraySkull / By the power of Grayskull
Con secretos poderes destella un castillo / With secret powers shines a castle
He-Man luchará hasta el final / He-Man will fight 'til the end
Teniendo a su lado la mágica espada / With the magical sword at his side
Y amigos que no fallarán / And friends that will not fail
Las fuerzas malvadas, querrán liquidarlo / The evil forces, they'll want to wipe him out
Y nunca descansarán / And they will never rest
He-Man (x3)
Cast
Episode List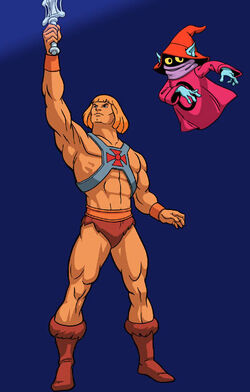 Season One (1983)

Season Two (1984-1985)
Trivia