Hoove
is an action figure from the
He-Man
toyline, and also appeared in the animated series
The New Adventures of He-Man
. He is one of the Mutants serving under
Flogg
.
Hoove's main power is that he can deliver powerful punches and kicks.
The New Adventures of He-Man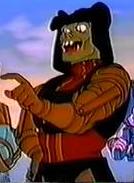 Hoove possesses considerable strength, able to tear a tree up from the ground and swing it around while fighting
Flipshot
in battle. He is also an excellent pilot, after taking out the Titus Observatory on
Primus
during an attack, a pleased Flogg remarked 'That's my Hoove'. When an enormously powerful ship began attacking The
Mutant Mothership
, it was Hoove who lead the Mutant fighters into battle against it, although their ships were not able to do any damage
He used to team up with
Karatti
in early episodes, but began appearing less and less in later episodes until he got prominence again near the end of the series, due to a second figure of him "Too-Tall Hoove" being released at the time. Hoove received a weapons upgrade from
Yolt
, the Blacksmith of Crelus; he could now increase the size of his feet and fists, giving him even more powerful punches and kicks in battle. Despite initial difficulties working his new power, he soon became accustomed to it, and had to use his new skills against the Galactic Guardians in
The Games
.
Appearances
The New Adventures of He-Man (cartoon)
DC Comics
Toyline
Hoove was released in the third wave of the He-Man toyline. He included a helmet and had a kicking action.
The second version of the character, Too-Tall Hoove, had a different armor, and extendable arms and legs.
Trivia
The prototype version of Hoove had orange skin and a more horse-like face. Some comicbooks used him with the original looks, before the toy with the definitive appearance was released.
Community content is available under
CC-BY-SA
unless otherwise noted.