Wiki Targeted (Entertainment)
Play Sound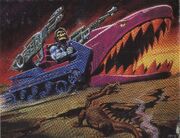 The Land Shark is a vehicle that features in the 1980s toyline Masters of the Universe and the animated television series based on the toyline, He-Man and the Masters of the Universe, produced by Filmation.
Description
The Land Shark is a shark-like tank, with powerful jaws, that Skeletor uses to menace Eternia.
Toy
The Land Shark toy was large enough to hold a single action figure. The toy had two large guns and molded treads even though it rolled on hidden wheels. The front of the vehicle was a fuchsia shark's head with rubber orange teeth. As the toy was pushed, the shark jaws slowly opened then snapped shut.
Filmation Series
The Land Shark appears in the following TV episodes:
"The Cold Zone". In this episode, the Land Shark seems to have an Artificial Intelligence, just like the Attak Trak, but more primitive. In this episode, the vehicle also appears to be larger and having a closed top instead of an open one.
Minicomics
The Land Shark has also appeared in many of the minicomics that came packaged with the action figures, and seemed to be Skeletor's main vehicle during 1984. The Land Shark appeared in the following minicomics: