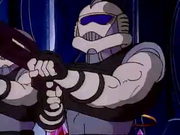 The Mutant Troopers is soldiers that appear in the animated series The New Adventures of He-Man.
The Mutant Troopers were the footsoldiers of Flogg's Mutant Army. They were heavily armored and well-Trained, and were often used in to pilot squadrons of Shuttle Pods in space as well as land-based vehicles such as the Terrorclaws. They were expected to show respect to Flogg by saluting in his presence, and answered to all of Flogg's Mutant subordinates such as Slush Head and Karatti.
Behind the Scenes
The design of the Troopers, like those of the Horde Troopers before them, was heavily inspired by the look of the Stormtroopers in the original Star Wars.
The Mutant Troopers appeared in two different styles; some wore black upper armor whil others boasted lilac highlights.
Appearances