Spider-Man: No Way Home Trailer Dropped - The Loop
Play Sound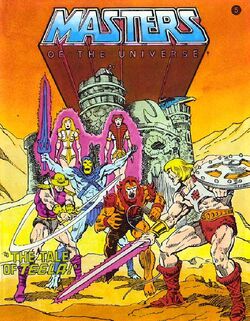 The Tale of Teela is the title of a Masters of the Universe minicomic, which tells the original version of Teela's origin. It was packaged with Teela's action figure. The story was written by Gary Cohn, the artwork was drawn by Mark Texeira, inked by Tod Smith and colored by Anthony Tollin.
Summary
Once every twenty years, Point Dread mysteriously appears, but only for a short time. During its last appearance, Skeletor used its magic to drain part of the Goddess' power to create a clone of her, which he intended to raise as an evil sorceress. Man-At-Arms came to rescue the Goddess, but the baby clone had already been created. Because the Goddess could not take care of the baby, Man-at-Arms adopted her. Named Teela, the clone grew up without knowing her origin. Now Point Dread has appeared again. Skeletor magically lures Teela out of the palace and his minions catch her. In Point Dread, he wants to complete what Man-at-Arms had interrupted last time.
Meanwhile, the heroes notice Teela's absence. He-Man, Ram-Man and Stratos set out to search for her. They find Point Dread, but are engaged in combat with Tri-Klops, Trap-Jaw and Mer-Man. This gives Skeletor enough time to escape with the Talon Fighter, taking Teela with him. His goal is Castle Grayskull. Having Teela with him, the castle's magic does not prevent him from entering. The Goddess and Man-at-Arms try to stop Skeletor. Man-At-Arms does not stand a chance against Skeletor, but the Goddess magically merges with her clone, Teela. In possession of her full energy again, The Goddess easily defeats Skeletor. Since Teela has developed her own life over time, The Goddess splits herself from Teela again and the Talon Fighter is transferred on top of Castle Grayskull. On their way home, He-Man wonders if Teela will merge with the Goddess permanently in the future...
Characters
Heroic Warriors
Allies
Evil Warriors
Vehicles
Locations
Notes
External Sites
References