Wiki Targeted (Entertainment)
Play Sound
The Wind Raider is a vehicle that features in the 1980s toyline Masters of the Universe and the animated television series based on the toyline, produced by Filmation.
Description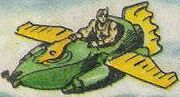 The Wind Raider is a powerful jet-propelled craft that has the capability to fly and also travel above the Harmony Sea. The vehicle is equipped with lasers and photon guns, and can hold five people. The Wind Raider is used by the Heroic Warriors.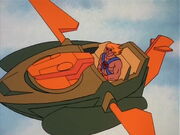 In the TV episode "The Cat and the Spider" a different Wind Raider appears, with spider legs. This Wind Raider is Webstor's personal version of the vehicle.
The Wind Raider of the original series was so popular that it appears again in the 2002 MOTU series, where most of the vehicles were new designs.
Toy
The Wind Raider was an olive green hulled toy with dark yellow wings, tailfin, and skull. The toy had wheels to roll on a floor or table and an anchor/winch that would unwind and wind using the skull on top of the vehicle. The toy carried one action figure even though in the minicomics and TV series show the wind raider carrying 2 or 4 people. Possibly because of the similar color schemes, the minicomics presented the Wind Raider as a unique vehicle belonging to Man-At-Arms. On the TV shows, the Wind Raider was typically presented as a vehicle belonging to the Enternian military, whose members were typically portrayed in armor similar to Man-At-Arms. The boat feature is mentioned on the packaging, although rarely used. The Wind Raider toy did not have any offensive weapons but could ram other aircraft. However, it was often shown in the filmation series firing beams out of the eye sockets of the yellow skull, which children often imitated with the toy. Unlike the Battle Ram, the Wind Raider was presented as a transport instead of a military vehicle.
Appearances
Ecternal Links