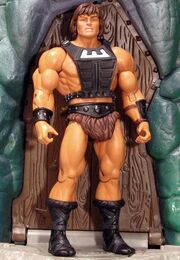 Wun-Dar is a character released as part of the Masters of the Universe Classics toy line. He is a repaint/variant of He-Man with brown hair, a brown loincloth, black belt, and black boots. He comes with black Zodac armor, a black Zodac pistol, a brown loaf of bread, a black and silver power sword, and a black and silver half-power sword.
Released as an exclusive figure, he was available only to subscribers of the He-Man Collectors Club.
Wun-Dar's construction is identical to that of the Classics He-Man figure in every way save for his paint applications.
According to the bio on the back of the carded figure, Wun-Dar is an individual also known as the "savage He-Man". He was born one hundred years before Prince Adam, and lived in the savage underground city of Tundaria. One day, he saved a young woman who turned out to be the Goddess of Eternia. In return, she gifted him with his weapons and armor, and tasked him with defending both halves of the power sword, as many heroes before him had done.
Figure Background
The figure of Wun-Dar is an homage to the original promotional figure given away through the mail in 1981. In the late 1990s an unusual repaint of He-Man began appearing on eBay. He sported the same color scheme that Wun-Dar would come to have. For many years there was much uncertainty about the origin of this figure and it was long believed he came from a promotion with the Wonder Bread sliced bread company however more recent research since the release of the Classics figure has disproved this. This He-Man variant was available through a promotion where you could buy 3 figures and get one free in the mail, this figure was savage He-Man.
The Wun-Dar figure is an homage to this mysterious He-Man variant and the assumed background to the figure. The loaf of bread and the "savage" descriptor are clear nods to this. There is also a semi-hidden feature on this figure that pays tribute to the controversy; on the back of the armor, on the end of the small peg at the bottom, is a symbol consisting of three colored circles that is very similar to the Wonder Bread logo.
Another curious detail is the backstory given on the card. The premise of a "savage" He-Man saving the Goddess and then being given his weapons by her and tasked with defending Eternia is very similar to the original origin of He-Man presented in He-Man and the Power Sword.
Masters of the Universe Revelation
Main article: Wundar (Revelation)
Wundar made his animated debut in the Masters of the Universe: Revelation episode The Forge at the Forest of Forever.