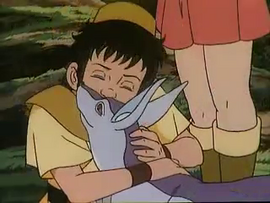 Zor were an animal featured in The New Adventures of He-Man.
Zor was one of Caz and Drissi's favorite herding animals that helped them to keep their flock of whooley animals in line on the Oasis. It's head was shaped like a fox, with pointy ears and a pointy snout. It's four legged body was more reptilian or dragon-like, with the two front legs longer than the ones in the back and a thick tail that that would often drag to the ground. The animal had a ridge running from the top of it's head to the tip of it's tail.
Zor was particularly attached to Caz and showd much concern when the boy was stricken with a mysterious illness after coming in contact with the Evil Mutants. After Caz made a full recovery, one of the first thing he did was to cuddle his loyal pet.
Appearances
Edit